Holy Calzone
A new pizza and calzone restaurant that's in an old church, Holy Calzone is run by the folks over at Junkyard meaning their brews are as tasty as their food...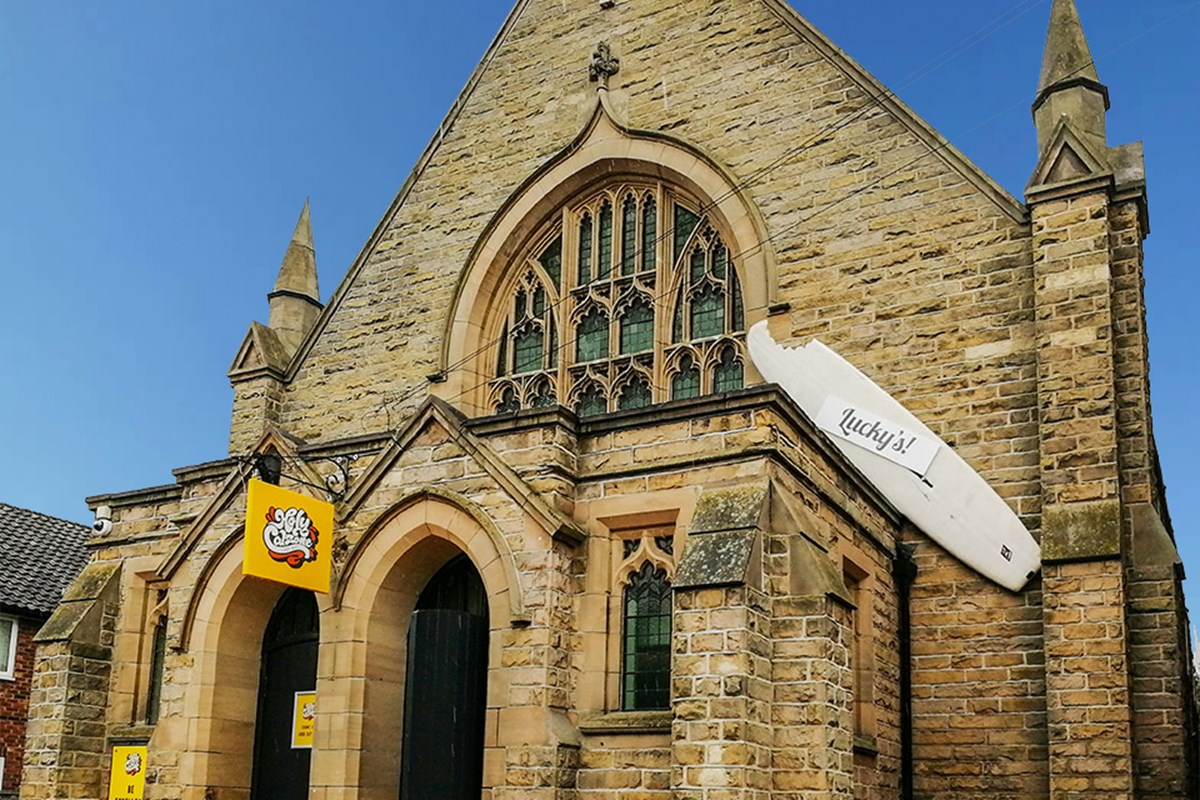 Kitted out with an ultra-modern and quirky interior design, this once abandoned church in Lady Bay has since become one of the coolest places to grab a bite or drink in West Bridgford. The calzones are huge, but they also do smaller pizzas if you fancy something lighter.

On the taps there are a variety of lagers and ciders, however, there is a constantly rotating list of craft beers and fridges chocked-full of beer from the UK, Europe and the US to wash down your food with.


Recently sampled (via Untappd)
Stone Tropic of Thunder Lager

Stone Brewing - Lager - Pale, 5.8%
Drank on Saturday 14 December 2019 at 14:35

star star star star_half star_border

Cosmik Debris

Liquid Light Brew Co - Sour - Gose - Fruited, 5%
Drank on Saturday 14 December 2019 at 14:32

star star star star star_half

Donut Mess With Yorkshire

Northern Monk - Pale Ale - English, 4.7%
Drank on Saturday 14 December 2019 at 14:31

star star star star_half star_border

Guayabera

Cigar City Brewing - Pale Ale - American, 5.5%
Drank on Friday 06 December 2019 at 20:57

star star star star star_border

Stone Aggro Agronomist IPA

Stone Brewing - IPA - American, 7%
Drank on Friday 06 December 2019 at 20:56

star star star star star_border

Festive Faith

Northern Monk - Pale Ale - Australian, 5.4%
Drank on Friday 06 December 2019 at 20:22

star star star star star_border

Endless Summer

Black Iris Brewery - IPA - Session / India Session Ale, 4.5%
Drank on Saturday 30 November 2019 at 14:31

star star star star_half star_border

Pink Moon

Liquid Light Brew Co - Fruit Beer, 4%
Drank on Saturday 30 November 2019 at 14:28

star star star star star_half

Mexican Cake

Westbrook Brewing Co. - Stout - American Imperial / Double, 10.5%
Drank on Thursday 28 November 2019 at 21:23

star star star star star_half

Holy Calzone
105 Trent Boulevard
West Bridgford
Nottingham
NG2 5BN