Fox and Grapes
Situated just by our office in Sneinton Market, the Fox and Grapes is a Castle Rock run pub that is light, airy and full of beautiful wooden decor...

Under various incarnations, the Fox and Grapes has sat at the city's creative epicentre since the 1830s. It serves a modest range of unique pizzas and jacket potatoes, some of which are gluten and vegan friendly - apt for a pub which feels both traditional and modern.

Like most Castle Rock pubs, the drinks selection is expansive. They have eight cask pumps, eight craft kegs and five house kegs, as well as a fridge full of rotating craft bottles and cans.

Recently sampled (via Untappd)
Hokum Stomp

DEYA Brewing Company - Porter - Other, 5.6%
Drank on Monday 23 May 2022 at 16:41

star star star star star_border

Schitthott

S43 Brewery - Stout - Imperial / Double Pastry, 10%
Drank on Monday 23 May 2022 at 16:40

star star star star star_half

Crash Helmet DJ

Turning Point Brew Co. - Sour - Fruited, 4.7%
Drank on Monday 23 May 2022 at 15:37

star star star star_half star_border

MERLINS THUNDER

Bang The Elephant Brewing Co - Mild - Dark, 4.4%
Drank on Monday 23 May 2022 at 14:29

star star star star star_half

Third Time Lucky

Sneinton Cider Company - Cider - Traditional / Apfelwein, 5.9%
Drank on Sunday 22 May 2022 at 16:20

star_border star_border star_border star_border star_border

Veloria

Liquid Light Brew Co - Sour - Fruited, 3.5%
Drank on Sunday 22 May 2022 at 12:24

star star star star star_border

Fox and Grapes
21 Southwell Rd
Nottingham
NG1 1DL
Twitter
𝕎𝕖 𝕕𝕚𝕕 𝕒 𝕥𝕙𝕚𝕟𝕘 🏆🦊🍇🍺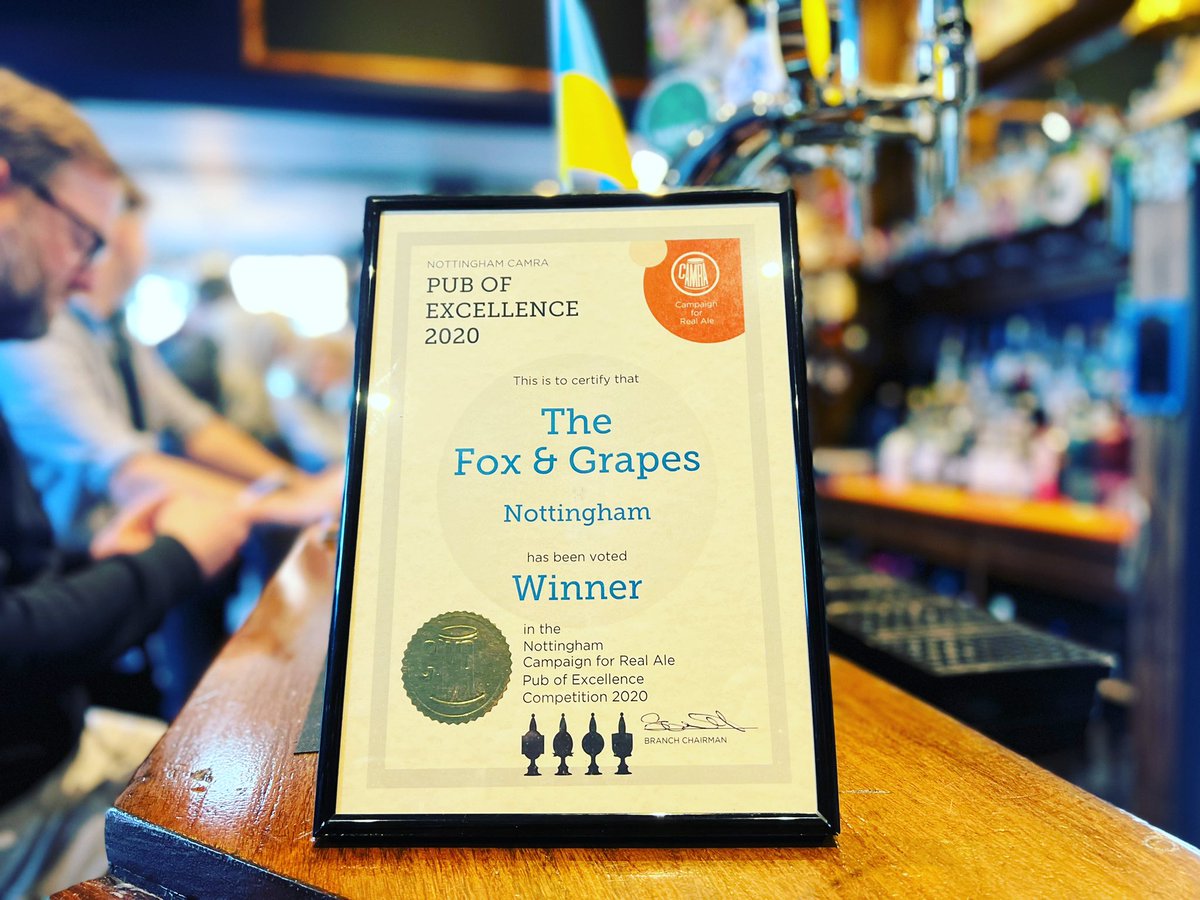 Beer from Ukraine is arriving tomorrow, with 100% of profits from every drop going to aid the humanitarian effort i… https://t.co/YFrIVLgQHF