Fox and Grapes
This bright and airy single-room pub is punctuated by beautiful wooden decor, with two raised seating areas...
There are various nods to the pub's vast heritage, including the iconic 'Peggers' pub sign suspended just above the bar and outdoor seating areas on either side.
You can expect the usual diverse and high-quality selection of cask, keg and craft beers that Castle Rock pubs are renowned for, plus a great range of spirits, wines, coffees and soft drinks.
The food menu offers a unique and delicious take on simple dishes like pizza, jacket potatoes and fresh platters. It's a particularly good spot for vegan and gluten-free diners to enjoy a bite.
Recently sampled (via Untappd)
Lumford

Thornbridge Brewery - Pale Ale - New Zealand, 3.9%
Drank on Friday 19 April 2019 at 15:29

star star star star star_border

MEGS Bomb

Arbor Ales - Pale Ale - International, 4.7%
Drank on Friday 19 April 2019 at 15:28

star star star star star_border

Founder's

JW Lees and Co - English Bitter, 4.5%
Drank on Friday 19 April 2019 at 15:26

star star star star_half star_border

Dessert In A Can - Chocolate Mud Cake

Amundsen Bryggeri - Stout - Imperial Milk / Sweet, 10.5%
Drank on Friday 19 April 2019 at 14:45

star star star star star_half

Likeable Orange Liquid

Cloudwater Brew Co. - IPA - Imperial / Double New England, 8.5%
Drank on Thursday 18 April 2019 at 21:18

star star star star star_half

Driftwood

Fourpure Brewing Co - IPA - Session / India Session Ale, 3.4%
Drank on Thursday 18 April 2019 at 20:29

star_border star_border star_border star_border star_border

Trouble In Paradise

Shiny Brewing - Porter - Other, 5%
Drank on Thursday 18 April 2019 at 17:18

star star star star star_half

NEIPA

Wild Card Brewery - IPA - New England, 5.4%
Drank on Wednesday 17 April 2019 at 21:08

star star star star star_border

Fox and Grapes
21 Southwell Rd
Nottingham
NG1 1DL
| | |
| --- | --- |
| Sunday | 11:00 - 00:00 |
| Monday | 11:00 - 23:00 |
| Tuesday | 11:00 - 23:00 |
| Wednesday | 11:00 - 23:00 |
| Thursday | 11:00 - 23:00 |
| Friday | 11:00 - 00:00 |
| Saturday | 11:00 - 00:00 |
@FoxandGrapesCRB
6 hours ago
Just a little reminder that we offer 20% on all food from 12-2 every day, and a 10% student discount on everything… https://t.co/4iBWj3sWFU
@FoxandGrapesCRB
yesterday
RT @CRBrewery: We can't say much but we can say we're a finalist in the CAMRA Champion Beer of Britain Awards! The winners aren't announced…
@FoxandGrapesCRB
yesterday
Only a week until our Two Tribes Brewery Showcase, which beers are you looking forward to most? #TTO #craftbeer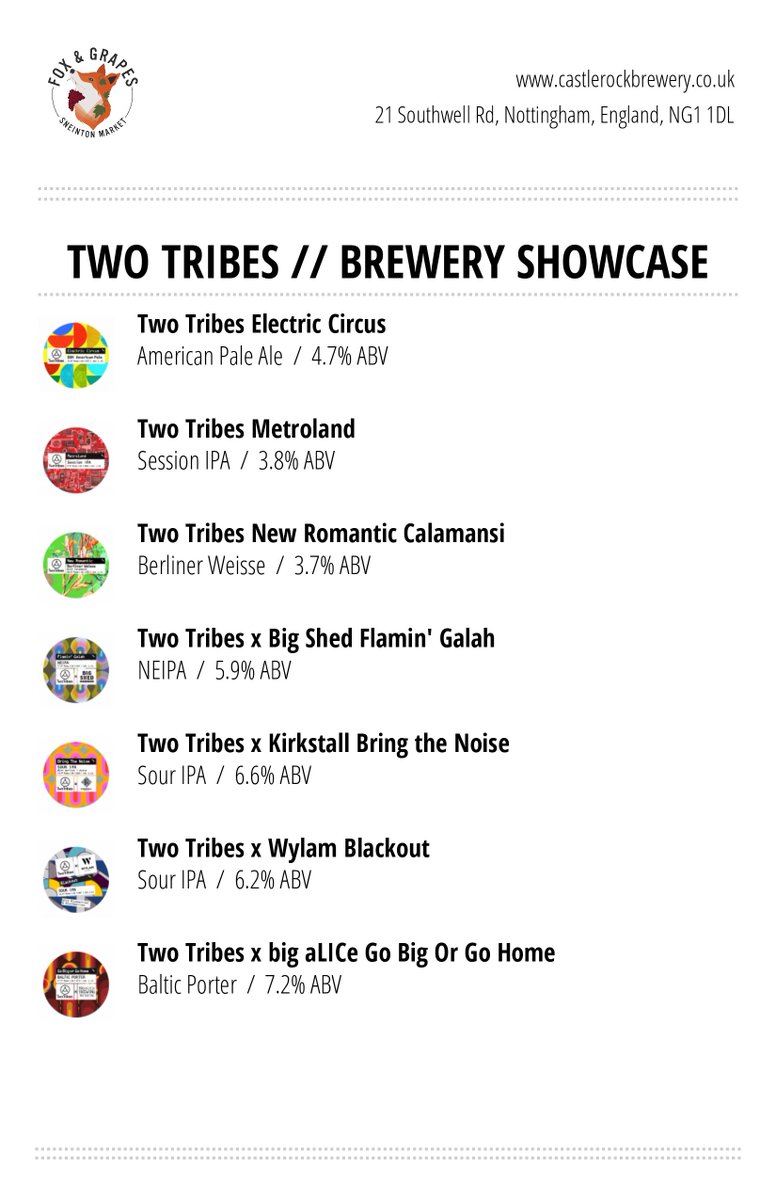 Upcoming events
NPF: NTU Poets at Fox and Grapes

Sunday 28 April 2019 18:00

Ledbury Poetry Prize 2019 shortlisted Rory Waterman (Sarajevo Roses) and Becky Cullen (Majid Sits in a Tree and Sings) read their poetry, followed by readings from poets studying at NTU. Pop along and enjoy this poetic showcase from some of the most talented creatives at Nottingham Trent University.

Full details

Poetry Aloud Presents: To The Moon and Back at Fox and Grapes

Tuesday 30 April 2019 19:30

It's the 50th anniversary of the moon landings. Bring your travel, space, star, love, poems and join us on a journey, To The Moon and Back.

Full details

Beer From The USA at Fox and Grapes

Monday 13 May 2019 - Saturday 18 May 2019

American Craft Beer Week takes place internationally from the 13th-18th May. Of course, we're celebrating.

The Fox & Grapes have gone all out to organise a USA Brewers Showcase, with the promise of having some of the best beers America has to offer available on the bar while stocks last!

Full details