The Embankment
Set in a Grade II listed building city side of Trent Bridge, The Embankment is a beautiful, historic pub which originally opened in 1907 as 'Boot's Store 2'...

It's established itself as a wonderful community pub offering a little bit of everything. Upstairs, Jesse Boot's office remains as it always has; a beautiful, wood-clad room with a gallery view of the main bar and stained-glass windows.

The pub is split into several rooms but The Dispensary is the place for beer lovers. With ten real ales, ten craft kegs, plus a fridge stocked full of craft and world beers, it showcases some of the finest beers from near and far.
Recently sampled (via Untappd)
X-Ray Eyes

Anarchy Brew Co. - IPA - Session, 5.1%
Drank on Tuesday 26 October 2021 at 19:22

star star star star_half star_border

Snake Eyes

Black Iris Brewery - Pale Ale - English, 3.8%
Drank on Tuesday 26 October 2021 at 19:09

star star star star_half star_border

Here We Are Now

Liquid Light Brew Co - IPA - New England / Hazy, 6.5%
Drank on Tuesday 26 October 2021 at 18:40

star star star star star_half

Peach Melbear

Beartown Brewery - Fruit Beer, 4.4%
Drank on Tuesday 26 October 2021 at 12:37

star star star star_border star_border

Créme Bearlee

Beartown Brewery - Stout - Milk / Sweet, 4.8%
Drank on Sunday 24 October 2021 at 14:41

star star star star star

Session

Castle Rock Brewery - IPA - Session, 4%
Drank on Sunday 24 October 2021 at 14:18

star star star star star_border

Pintle Pale Ale - Citra & Cascade

Burnt Mill Brewery - Pale Ale - American, 4.3%
Drank on Sunday 24 October 2021 at 13:42

star star star star star_border

Haze of Thunder

Brew York - Pale Ale - American, 4.2%
Drank on Sunday 24 October 2021 at 13:26

star star star star_half star_border

The Embankment
282-284 Arkwright Street
NG2 2GR
Twitter

@EmbankmentNottm
5 days ago
We're hiring! #jobs @CRBrewery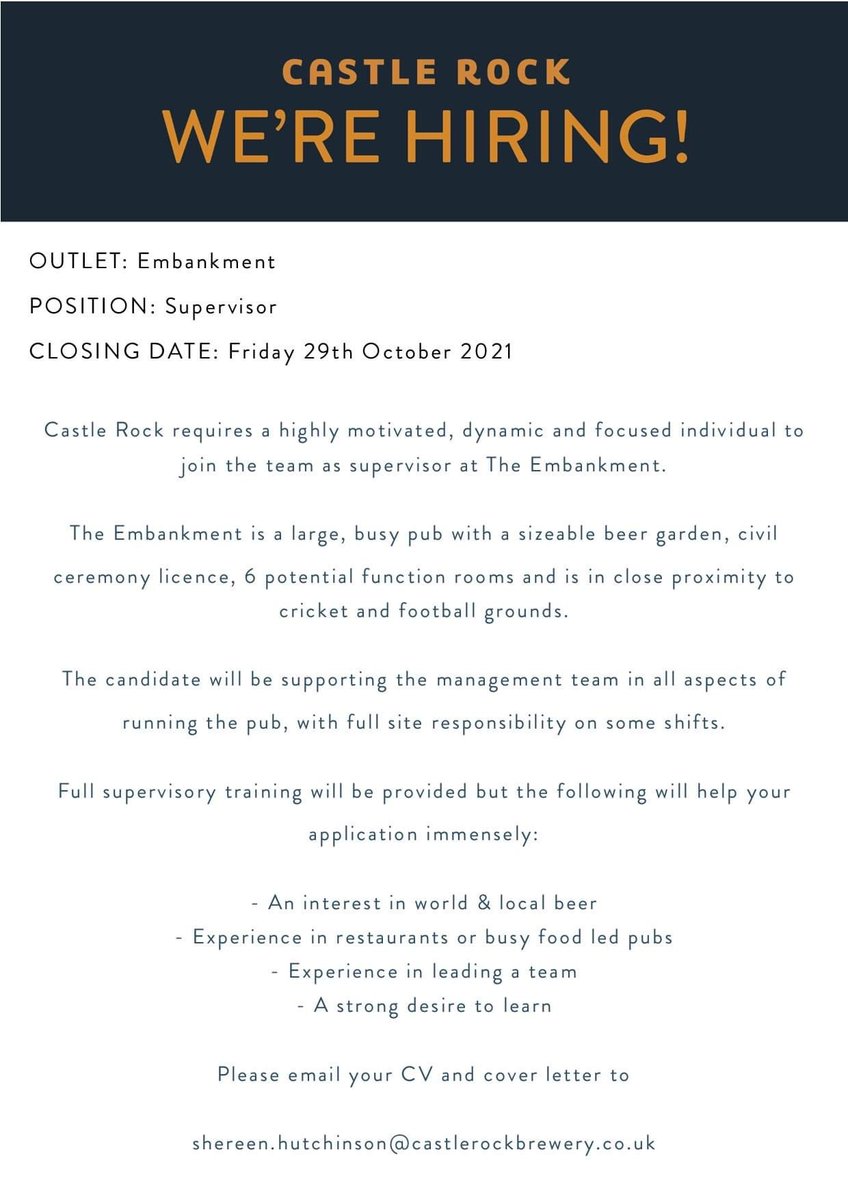 @EmbankmentNottm
2 weeks ago
RT @CRBrewery: We have our first Recruitment Day at the Canalhouse on Thursday! A chance to talk to our team, learn more about us & what we…

@EmbankmentNottm
3 weeks ago
🍺 BEER FEST 🍺 Can you spot us? Come and find the Embankment Team! Show us this post and we'll give you a 25% di… https://t.co/uWewdedMmW