Barrel Drop
Recently taken over by Magpie Brewery, this place is one of Nottingham's hidden gems, tucked up an alleyway just a minute or so from the Market Square...
A quirky little hideaway, this friendly, city-centre micropub is passionate about finding you great beers and seeking out the best new brews for you to drink in or take away.
You'll find all your favourite Magpie Brewery beers on tap as well as a few nice surprises here and there from the likes of Cloudwater, Magic Rock, Northern Monk and Neon Raptor.  
There's plenty of cans and bottles too, plenty of choice of what to wet your whistle with. It's just a lovely, intimate place to have a few beers with your mates.
Recently sampled (via Untappd)
Blackheath Stout

Fixed Wheel Brewery - Stout - Other, 5%
Drank on Sunday 17 March 2019 at 18:40

star star star star star_border

Rum 'N' Raisin Stout

Ran Ales - Stout - Other, 5%
Drank on Saturday 16 March 2019 at 18:00

star_border star_border star_border star_border star_border

Cherry Raven

Magpie Brewery - Stout - Other, 4.4%
Drank on Saturday 16 March 2019 at 16:52

star star star star star_half

Mint Condition

Box Steam Brewery - Porter - English, 4.5%
Drank on Saturday 16 March 2019 at 14:55

star star star star_half star_border

Extra Pale Ale

Redwell Brewing Co. - Pale Ale - American, 4.6%
Drank on Friday 15 March 2019 at 16:16

star_border star_border star_border star_border star_border

Lowry

Hydes - Golden Ale, 4.7%
Drank on Friday 15 March 2019 at 12:31

star star star star_half star_border

Barrel Drop
7 Hurts Yard
Nottingham
NG1 6JD
| | |
| --- | --- |
| Sunday | 12:00 - 22:00 |
| Monday | Closed |
| Tuesday | Closed |
| Wednesday | 17:00 - 22:00 |
| Thursday | 12:00 - 22:00 |
| Friday | 12:00 - 22:00 |
| Saturday | 12:00 - 22:00 |
@Thebarreldrop
5 days ago
@Thebarreldrop
1 week ago
Hoppy Hour 🍻 Mon-Wed 4pm-7pm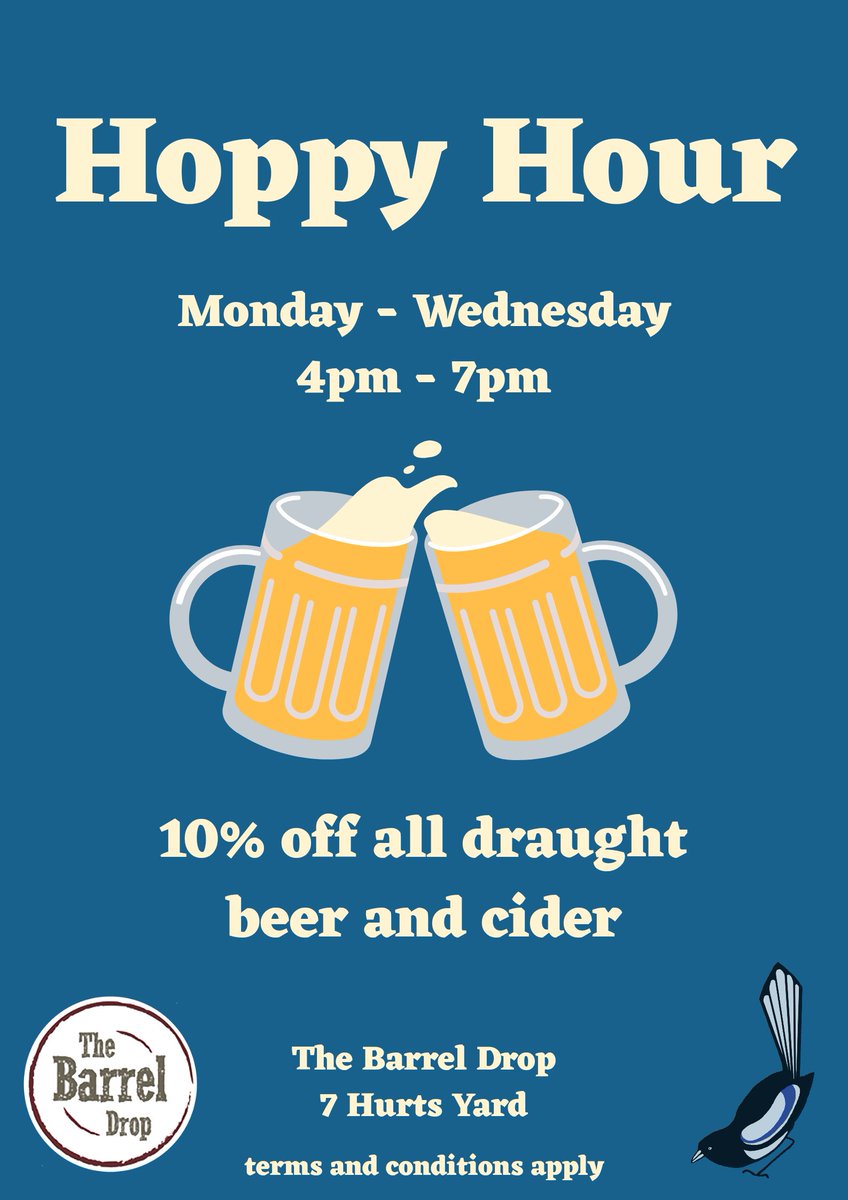 @Thebarreldrop
2 weeks ago
@DOmicropub @MagpieBrewery @Crafty_Crow @nottmcraftbeer @NottinghamCAMRA @Wanderlustbeers @CAMRA_YM Very fancy