Interview: Adrian Tierney-Jones
Originally a music journalist, Adrian has become one of the most prominent beer writers of the last twenty years. He was voted Beer Writer of the Year in 2017, has judged world beer competitions and is the Editor of Original Gravity, a national publication changing beer writing as we know it…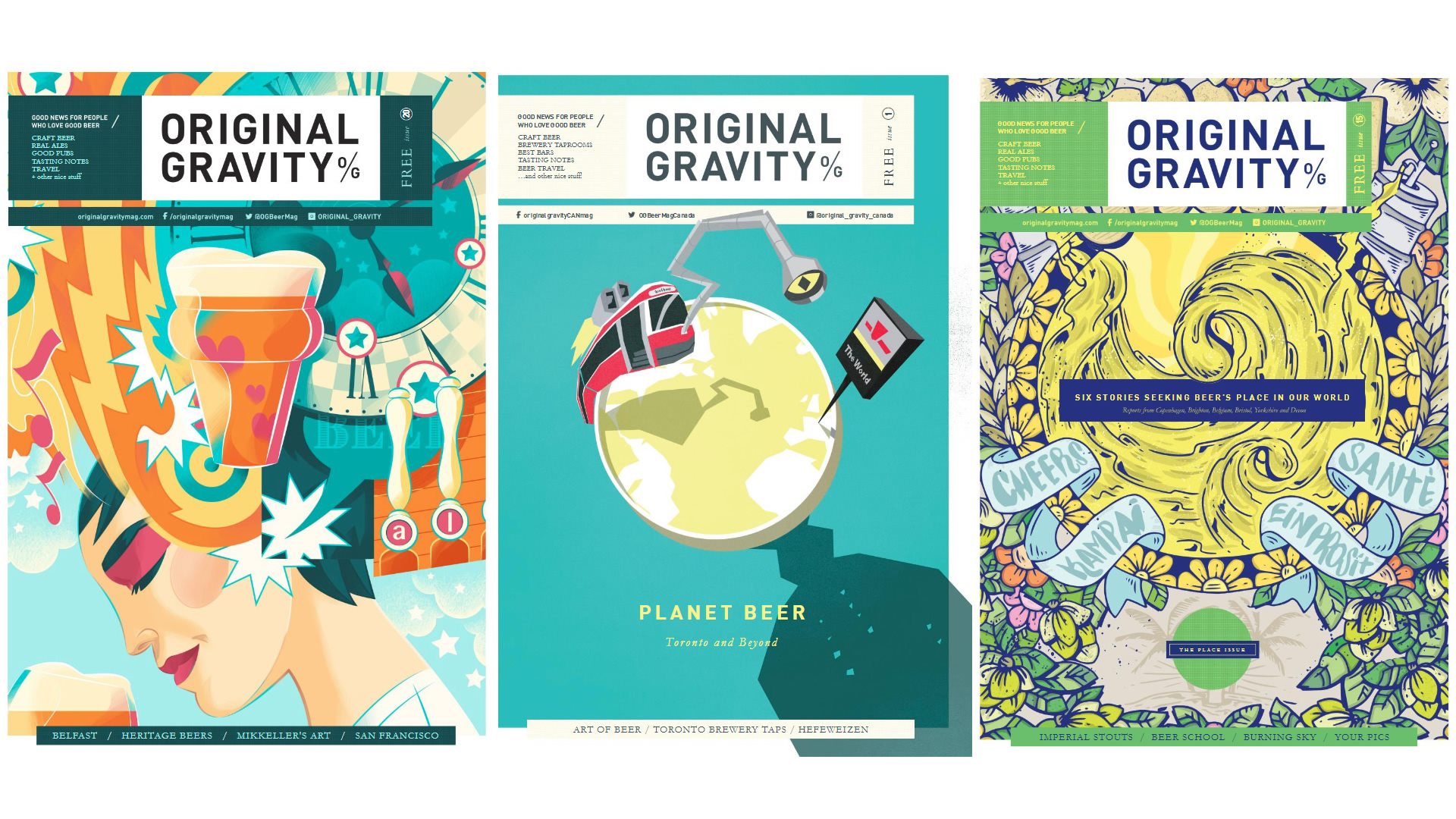 When did you become part of the Original Gravity team?
Our publisher, Daniel Neilson, set it up and asked me to write for it four years ago. He felt there wasn't a magazine on craft beer that he wanted to read, so thought he should create one. Until two years ago, I was just one of the writers, but I've written in every issue since the beginning.

What's the ethos of the magazine?
When I became Editor I said: we're not going to do articles on "keg vs cask" or reviews of pub crawls. We were not going to write about beer in the way that it's traditionally been written about. Not everyone gets it - I call it 'asymmetrical beer writing.'  It's about getting writers to think; it's that moment when the sun hits the glass windows of an old brewery, how the pub can be a refuge or even the opposite.

Emma Inch, for example, wrote a piece called 'Safe' which was about how, as a lesbian woman, she didn't always feel like the pub was a safe and secure place for her. This is exactly what we want - people to write pieces that are personal but outside of their bubble. We also aim for a fifty-fifty gender split for guest writers. We won't do a 'women's issue' per se, but we always bear it in mind - not just because they're women, but because they're good writers.

Every issue of Original Gravity has a loose theme - how do you choose each one?
At the start of the year we have a meeting to decide all the themes for the year. Sometimes they're plucked out the air. The current issue focuses on the idea of flight, so there's a piece about the airport bar being a refuge before flying. One of our new writers is interested in railway bars and we talked about how they're a liminal space between home and work - a decompression chamber.
Sometimes people think they know Original Gravity, and then I've turned their world upside down. I get slightly irritated when people suggest contributing a top ten list - it makes me wonder if they even read the magazine. It's about trying to think asymmetrically and obliquely (whatever that means). When you think you've got an idea, turn it inside out and go from there.  
It's all about people, and how beer, pubs and breweries can give you that sense of place. I've done weekly columns and reviews for over twenty years, but what I like about the magazine is that it's the freest I have felt when it comes to editorial and writing capacity. In the past, a lot of beer writing felt like it was written for a trade magazine, whereas a lot of beer writers now come from different journalistic backgrounds, meaning we all have different perspectives.

Where do you see the future of craft beer heading? Do you think more craft breweries will be bought out by 'big beer'?
I think it'll be one part of the future. I still drink beers from Fourpure and Magic Rock, who are owned by Lion Beers, as well as Beavertown who are part-owned by Heineken. It's easy to look back and think that all these buyouts were bad, but look at Pilsner Urquell: they've not been independent for over fifteen years and it's still a fantastic beer. I was reading about Ballast Point brewery who were bought by Constellation for $1 billion in 2015. The thing is, they overpaid for it and it seems that they are now downsizing. I think buyouts are part of the future, but breweries need to realise their own limits for growth.

Another aspect is sustainability. What happens if you tell breweries to limit their carbon footprint? You're having hops flown in from Yakima Valley, using stainless steel equipment, and importing malt and fruit from anywhere else. There might be a drive to focus on local breweries again and there might come a stage where people boycott certain breweries because of their carbon rating.

Are there any beer styles you'd like to see more breweries tackling?
I'd like to see various beers from the family of lager, and breweries trying to explain that it's not just this monolithic thing. A lot of people do know that lager is more than just yellow and fizzy, but I'd like to see more breweries have a go at a Schwarzbier, a Märzen, a Dopplebock.

What's the one beer you'd recommend to people from your book '1001 Beers: You Must Try Before You Die'?
Either Orval or Pilsner Urquell. Pilsner Urquell, in my mind, is the most important beer that's ever been made because it kicked off lager. Orval is a never-ending fascination for me; whether it's young Orval, where you've got a nice orange blossom of the hops coming through, or one which is eighteen months old with complex earthy flavours, you've got to try Orval.

What are your plans for the Original Gravity: Live event at Nottingham Craft Beer Week?
A mix of readings, beer-tastings, interviews, and whatever else we deem interesting. I'm looking forward to exploring more Nottingham beers when I visit too; I was impressed with Black Iris and Neon Raptor when I last visited.

Lastly, what do you drink when you're not drinking beer?
Water.
Original Gravity Live takes place at The Herbert Kilpin on Tuesday 12 June, featuring Adrian Tierney-Jones, Pete Brown and Daniel Neilson. Entry is free.